---
22 Nov 2021
I've expanded my Thortful portfolio with two more year-themed movie birthday cards. Available at: www.thortful.com/creator/thismeanswaugh

---
24 Oct 2021

Ever gluttons for punishment, my wife and I decided to have one last crack at the picture puzzle whip and have a go at a Halloween one. While I could have gone into the 100s with this, she sensibly had me whittle it down to 50, covering every decade from the 1920s until the 2010s (excluding the 1940s, shamefully).
---
06 July 2021
This Little Portrait set is to celebrate Big Trouble In Little China's 35th anniversary. Everyone knows I'm a massive John Carpenter fan and this one has been on my list to do for a long time. It's such a weird film and full of fun and interesting characters. Getting to draw the late, great Victor Wong was a joy. If I get round to doing a Tremors set at some point then I'll get to draw him again.
---
18 April 2021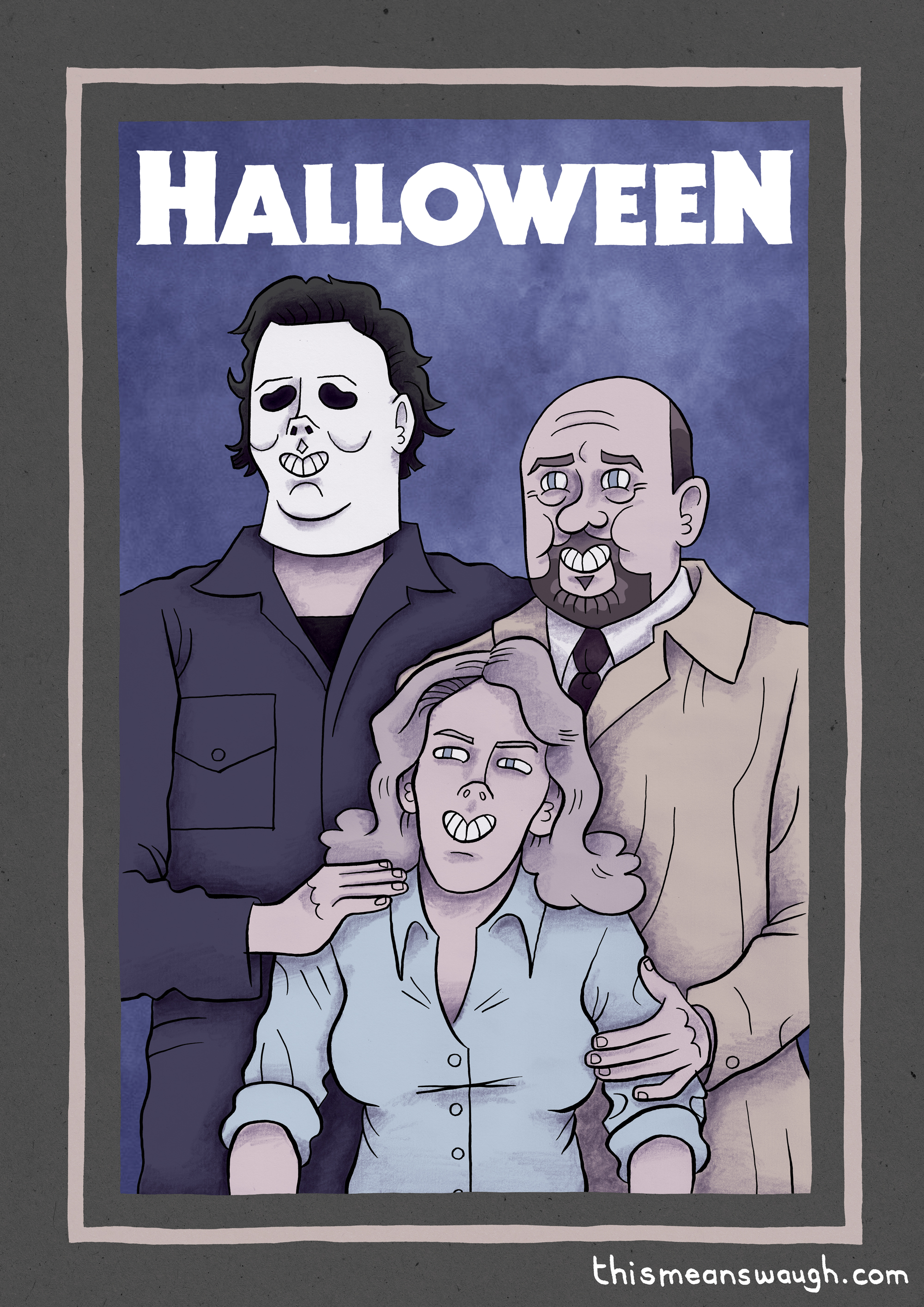 A piece I did for an upcoming Halloween book that was probably a bit too left-field to make the cut.

People always focus on the dark and scary aspects of the Halloween franchise, never the happy times.
---
12 March 2021
A pair of Little Portrait sets to celebrate the 20th anniversary of The Lord of the Rings film trilogy. It's technically not due until December, but I couldn't wait - have had LOTR on my to-do list for years. My Dad is a massive fan of the books and for three years across the early 00s these films provided an opportunity to bond. He's been known on occaision, when my Mum has gone out for the day, to nail the Extended Editions in one long stretch. He's hardcore.

I found it extremely difficult whittling it down to two sets of 12 - I knew I needed the Fellowship in there, but after that there were a lot of good-guy (and morally-ambiguous) characters I had to miss off, Galadriel and Elrond in particular. It's a shame, but I'm happy with the choices made.