---
06 July 2021
This Little Portrait set is to celebrate Big Trouble In Little China's 35th anniversary. Everyone knows I'm a massive John Carpenter fan and this one has been on my list to do for a long time. It's such a weird film and full of fun and interesting characters. Getting to draw the late, great Victor Wong was a joy. If I get round to doing a Tremors set at some point then I'll get to draw him again.
---
18 April 2021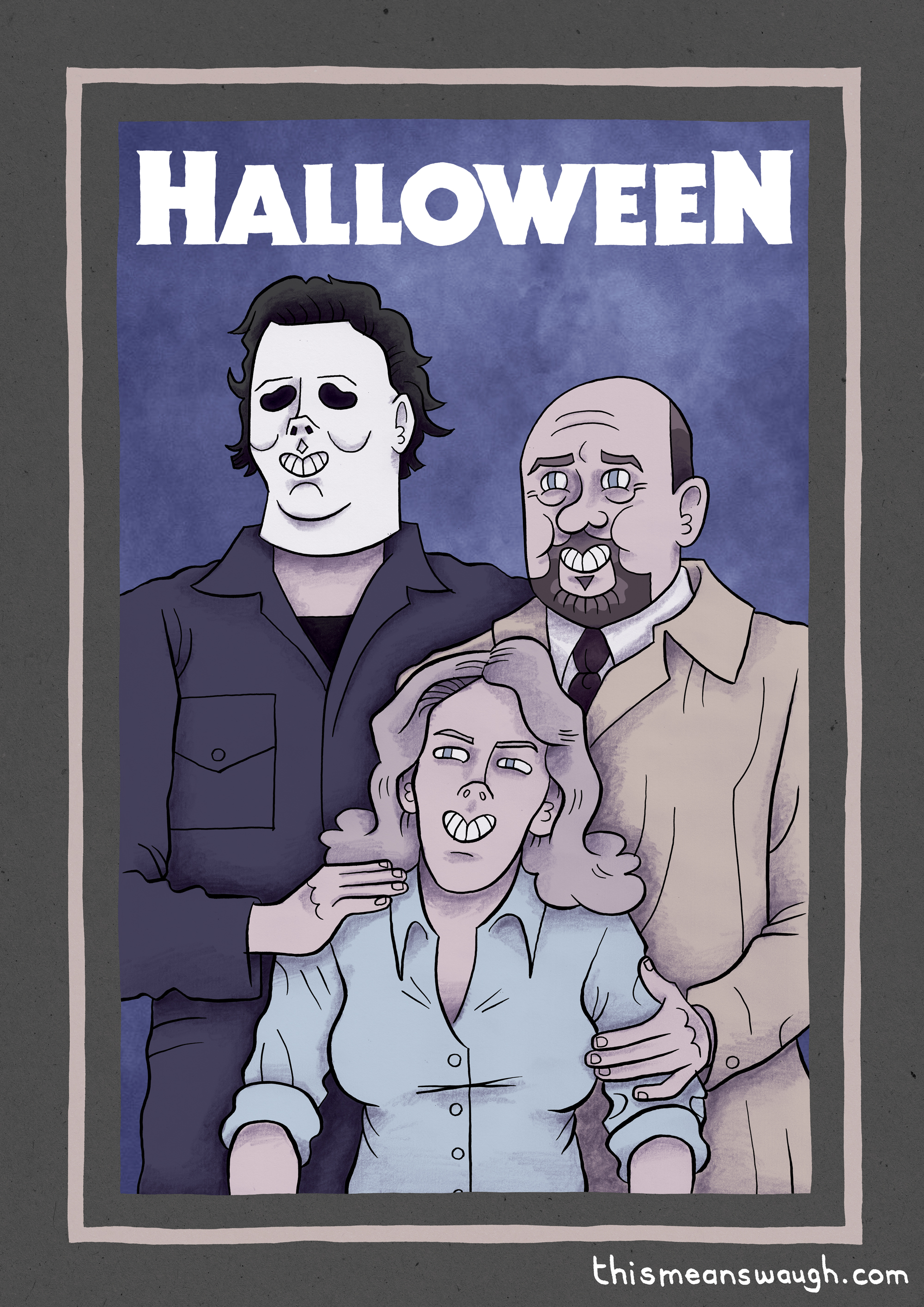 A piece I did for an upcoming Halloween book that was probably a bit too left-field to make the cut.

People always focus on the dark and scary aspects of the Halloween franchise, never the happy times.
---
12 March 2021
A pair of Little Portrait sets to celebrate the 20th anniversary of The Lord of the Rings film trilogy. It's technically not due until December, but I couldn't wait - have had LOTR on my to-do list for years. My Dad is a massive fan of the books and for three years across the early 00s these films provided an opportunity to bond. He's been known on occaision, when my Mum has gone out for the day, to nail the Extended Editions in one long stretch. He's hardcore.

I found it extremely difficult whittling it down to two sets of 12 - I knew I needed the Fellowship in there, but after that there were a lot of good-guy (and morally-ambiguous) characters I had to miss off, Galadriel and Elrond in particular. It's a shame, but I'm happy with the choices made.
---
22 Jan 2021

I created these illustrations of famous film directors at various stages of their lives for The Film Look, a fantastic resource (including videos and a podcast) for filmmaking on a budget. The caricatures are being used on their Patreon campaign to differentiate between the different levels of patronage. This marked a return to caricatures (after quite a few years) and was a lot of fun.

---
31 Dec 2020

It's been over a decade since I started selling work via Etsy and, while I've been fortunate enough to sell comics and prints all over the UK and to some very exciting and exotic locations (to this wee lad from rural Scotland anyway), the big thrill for me has always been people from all different parts of America buying my work. Cinema is such an influence on my work and I've grown up on American TV and movies, so it's still surreal to think of my work up in all these different homes and workplaces.

The idle thought struck me this year - "could I possibly have sold to all 50 states?". We went back through the logs filling in the map above, and while I didn't hit the big 5-oh, I have sold to 36 of them, which is astounding. Thank you so much to everyone Stateside who has bought something from me over the years - especially you repeat purchasers. If there is anyone from the North/Mid-west or South-East reading - come on, stop letting the side down. Here's to all 50 in 2021!